Description
The Skwerl 98 was designed to help you play on the parts of the mountain that most skiers never even see.
In the East, we don't do much skiing above the tree-line; our mountains just aren't that tall. We look for adventure in the nooks and crannies of the mountain, skiing between the rocks and among the trees. This is where having playful and really maneuverable skis can make all the difference. This is the natural habitat of the Skwerl 98.
Like four-wheel drive for your skis.
Skwerls are nimble enough to flow through the tightest trees and versatile enough to let you finesse your way past obstacles. Our triple-rockered Sigma profile gives the Skwerls an extra pivoty feel, while also giving them plenty of traction on hard surfaces when you need it.
Features of the Skwerl 98:
All-mountain capability.  Splayed tips and 98mm of width, underfoot, give the Skwerls serious off-piste utility, without being uncomfortably wide when surfaces get hard.  Variable snow conditions are no problem. The shape of the tips helps the Skwerls ride over logs and other obstacles (not to mention those piles of pushed around slush we get when it rains) and float in moderate amounts of powder.
Twin-tailed versatility.  Sometimes you need to ski backward; sometimes you just want to.  We're all about having options.
Rocker.  More rocker.  Triple Rocker. Deep rocker lines in the tips and tails give the Skwerls the agility of a short ski and the forgiveness of a flexible ski, without sacrificing the stability that comes from length and stiffness. The third rocker point, located directly underfoot in the cambered center section of the ski, adds a completely new layer of maneuverability. Pivot. Carve. Slide. Spin… Whatever it takes.
Progressive Turn Radius. The unique geometry of the Skwerl 98 allows you to intuitively control the shape of your turn, simply by changing how far you tip your skis on edge. The more you tip them, the tighter your turn radius becomes.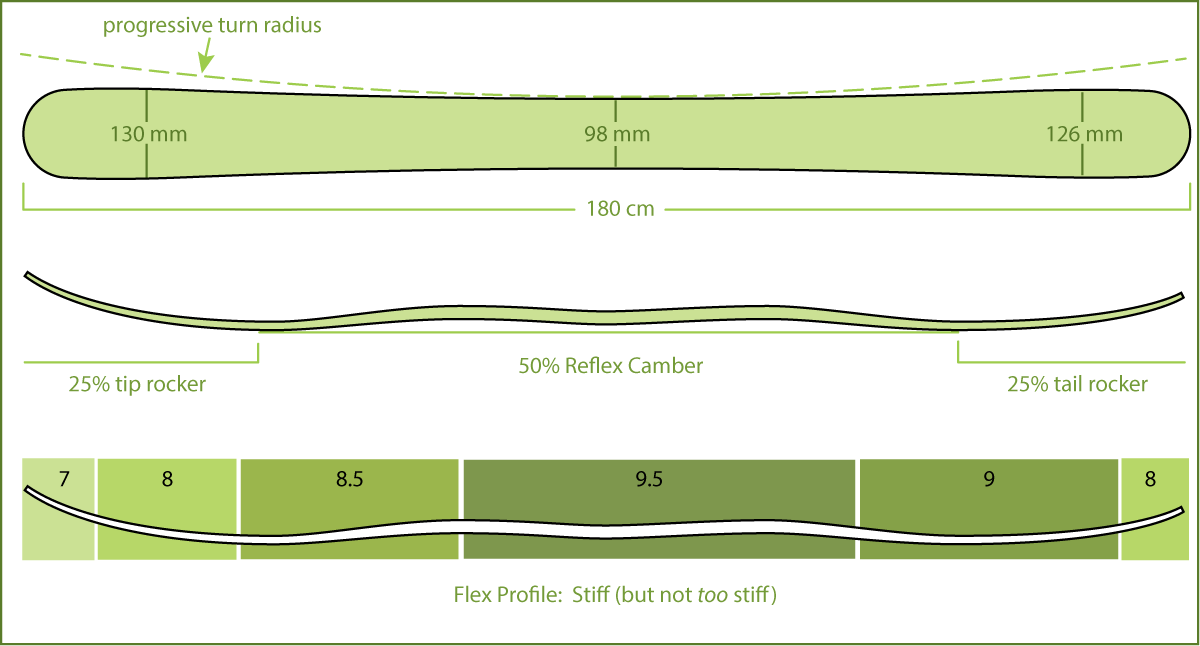 Tech Specs:
Size:  180cm
Dimensions:  130-98-126 (tip-waist-tail in mm)
Profile Type:  Triple Rocker
Tip Rocker:  25%
Tail Rocker:  25%
Turn Radius: Progressive
Tip/Tail Splay:  6cm/4cm
Flex: Progressive
Core Materials:  Hickory and Yellow Poplar